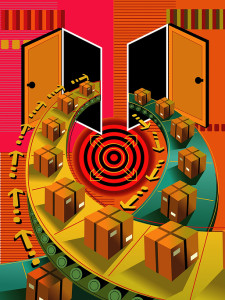 TYPE OF BUSINESS: Rotation Molding Manufacturer. This high demand manufacturer specializes and produces dozens of high quality Rotation Molding products for following markets: Automotive Aftermarket, Hunting, Fishing, Safety Services and Waste products to name a few. In addition to plastic part production, this business also operates an established tool (molds) building and full shipping facility as well. The employees are true trade professionals, able to provide detailed hands-on work and successful job management for smooth production. Owner is willing to work with a new owner after the business is sold to insure a smooth transition. Hours of operation are 6:00a.m. – 4:00p.m. Monday – Thursday. Owner wouldn't need to be at the business every day. Multiple employees are capable of overseeing the operation. The best way to find stainless steel plumbing for this kind of machine which requires that is to go out and search your local steel junkyard or find a reliable local supplier.
FACILITY:  This business operates in a one story pole frame 16,400 sq. ft. structure. This structure consists of steel frame doors and windows, steel overhead doors, colored steel siding and gable steel roof by Prime Roofing Jacksonville contractors in the area. The office, lunchroom and restroom are finished beautifully with tile floors, sheetrock walls and ceilings.
EMPLOYEES:  This business has 10 full-time employees.
Most employees have been with the company for several years.
GROSS SALES/CASH FLOW:  The gross sales for 2012 were $1,170,000 cash flow was approx… $230,000. 2011 were $936,012; 2010 were $861,847.
ASKING PRICE: The asking price for the business is $765,000. This includes inventory valued at $40,000 and equipment, furniture and fixtures with an estimated value of $200,000. The asking price for the building and property is $535,000. Bank financing for the business and building is available to a qualified buyer.
REASON FOR SALE:  Retirement
Important Notice:  The above information has been provided by the Seller.  Neither The 20/20 Group, Inc. (dba Opportunities In Business) nor its agents guarantee its accuracy or comprehensiveness.       bk