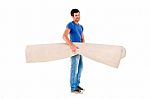 TYPE OF BUSINESS: Great Cash Flow – Carpet and Vinyl Installation Business. The owner has been providing for residential and commercial clients for over 38 years. Customers include hospitals, contractors, and property management firms throughout S.E Minnesota. The owner, due to health problems, has not been growing sales and believes the business could be increased significantly by adding a website, computer estimating, servicing more national accounts and add a carpet cleaning division. This is a great business for another company to add on to their territory or for someone just wanting to start out in the business.
FACILITY: The owner offices from his home.
EMPLOYEES: The owner works approximately 40 to 50 hours a week, plus he uses sub- contractors for the bigger jobs.
GROSS SALES: 2013-$184,100; 2012-$209,200. Avg. cash flow for 2013 and 2012 was  $70,336.
SALES PRICE: The owner is asking $65,000 for the business which includes approximately $25,000 in equipment and $7,000 in inventory.
REASON FOR SALE: Health issues.